Resources
On this page we have made our best effort to provide you with helpful links to dog training equipment, books, other blogs, and healthy food.
Muzzles
It's emotionally hard to put a muzzle on your dog, but sometimes you don't have a choice in order to keep everyone safe, including your dog. These muzzles are comfortable and light weight. Dogs can still drink and pant with them on. It's very important for dogs to be able to pant as that is one of the only ways dogs can cool themselves down.
These are our favorite muzzles.They used to be available everywhere, but now this is the only place where we have been able to find them: Plastic-Coated Wire Basket Muzzles. After putting the muzzle on, be sure to pull forward on it. If you can pull it off, so can your dog. The muzzle has a loop in the front to put the collar through. To be extra safe, you can tie the top leather strap of the muzzle to the collar as well at the top of your dog's head.
These plastic ones will work as well: Plastic Basket Muzzles or Plastic Basket Muzzles from Italy.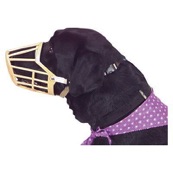 Leashes
Leather leashes are by far the most comfortable for your hands. The wider and thicker the leash, the less it cuts into your hands. Leather also has some give to it, giving you a solid grip no matter where you grab the leash. We have scoured the internet for the best leashes we could find. Even though this company's training philosphy is very different from ours, we recommend these 6 feet long leashes:
Leerburg 3/4 inch wide and 6 feet long.
Indoor Camera (to keep an eye on your dog at home)
We like Wyze Cam Pan.  By way of your smart phone, you can pan, zoom and tilt, so you can see an entire room.  You can also listen and talk to your dog: Wyze Cam Pan.
Gates
Gates can be very useful management tools. A lot of dogs hate to be confined behind closed doors, so gating a room is much better tolerated.
We like these walk-thru gates. Stepping over gates constantly can cause you to fall. We only use gates with vertical bars as dogs can try to climb gates with cross bars and can get their collars hung up on them.