Welcome to Affection & Praise Family Dog Training, Inc., where we believe that the best way to solve your dog's behavior problems is to teach your dog the correct behaviors with kindness and patience. We offer private virtual and at home lessons so that we can tailor all our dog training/behavior sessions to your specific needs.
We use all positive, scientifically proven dog training and behavior modification techniques. We specialize in aggressive behavior and child proofing, but we absolutely love to work with puppies so that we can prevent behavior problems from ever taking hold.
Since Affection & Praise Family Dog Training, Inc. was established in the Denver Area in 1996, we have been busy training hundreds of dogs every year. To see some of our success stories check out our testimonials.
Services
Virtual Dog Behavior Consultations by Video Conference
- $75 per consultation
Before Covid, we would sit around your kitchen table and talk for at least an hour or two about your dog's behavior issues, as well as training and treatment protocols. That can be done just as well by video conferencing. Besides, entering your home as a stranger with a mask on could really upset your dogs, especially if your dogs have fear and aggression issues.
So, thank goodness for video conferencing. We prefer Facetime, but Zoom will work as well. If you prefer another form of video conferencing, please let us know and we will try our best to accommodate you.
Flexible private outdoor dog training sessions - $145 per session*
*Because of our overloaded schedule, we are only accepting former clients or friends and family of former clients. We apologize for the inconvenience.
One video conference or phone conversation is required first and we offer this only in non snowy months in our service area: Denver, Breckenridge, Conifer, Bailey, Fairplay and everywhere in between. We can work in your backyard or in a park, depending on your dog's issues.
We charge by the session/consultation, NOT by the hour. You aren't committed to any number of lessons and can take as little or as many as you like, whenever you like.  It all depends on your needs.  All we care about is that your dog problems are solved and your dog training goals are met.
Behavior Problems
These are some of the training and behavior problems we work with:
- excessive barking
- separation anxiety
- people aggression
- dog aggression
- child proofing
- sibling rivalry
- fears/phobias
- house training
- play biting
- jumping up
- destructive behavior
- digging
- running off
- dog/cat introductions
Call or text (303) 910-3931 to get started!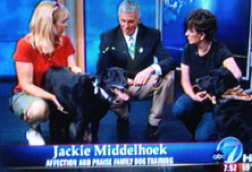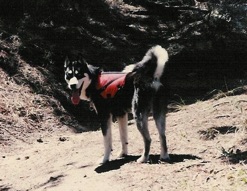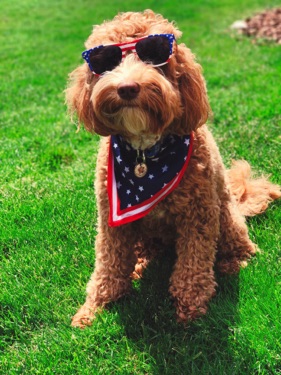 Affection & Praise Family Dog Training, Inc. has moved to the beautiful mountains near Fairplay, Colorado (2 hrs drive from Denver).
The only at home clients we will accept are former clients or friends and family of former clients.
Otherwise please refer to this list for recommended trainers in the Denver area: Dog Trainer List
Jackie Middelhoek gave dog training and behavior tips every other Saturday on the Denver Channel for over 15 years and is still a guest speaker from time to time.